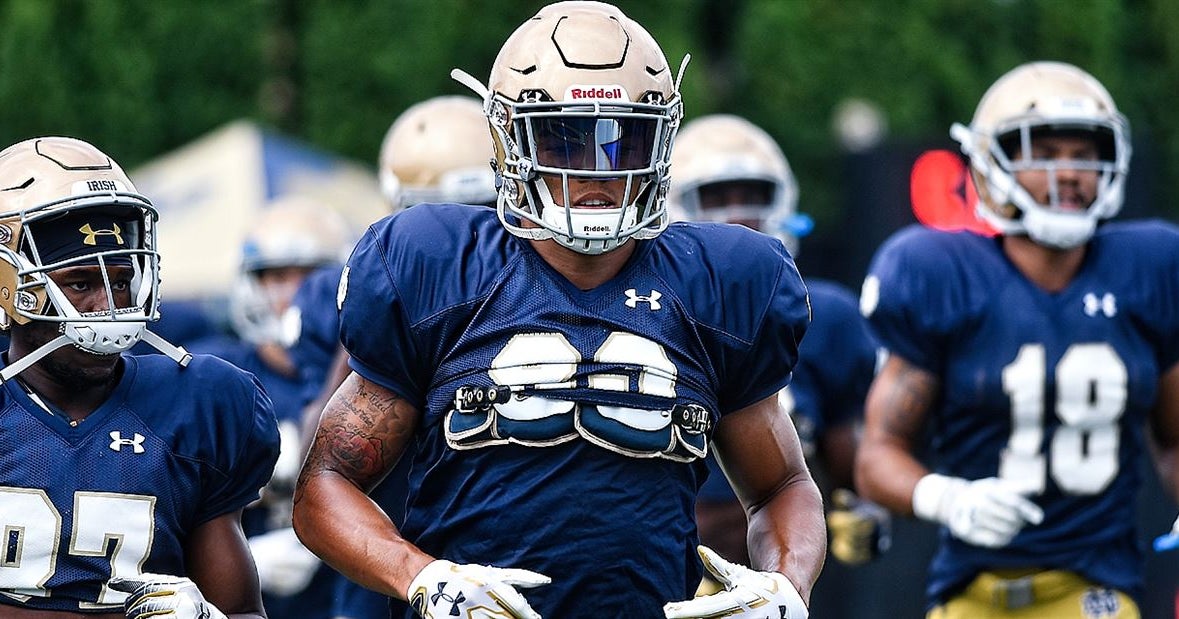 Notre Dame wide receiver Chase Claypool could be in store for a huge year. The junior played sparingly as a freshman, but then saw his numbers increase a great deal as a sophomore. Last season, the 6-4, 227-pounder totaled 402 yards and two scores on 29 catches. Things could be taken to new levels in year three.
Offensive coordinator Chip Long recently spoke with Fighting Irish Media's Jack Nolan and was asked about the areas of the offense that is making him the happiest. Long wasted little time in name-dropping the special talent from Canada.
"I think our receiver group has really come on. A young man who I have challenged really since the moment I got here, Chase Claypool has really just totally turned around the way he goes about his daily habits and is having a really good fall camp," said Long. "A guy who has bought in completely to what we believe in and has really had a good fall camp."
Never shy to positively call out players who are putting in the work, Long continued by naming a few other standouts for him from fall camp.
'Miles Boykin has really taken from what he did towards the end of last year, to the spring, to now," said Long. "Chris Finke has gotten stronger in the weight room, so he's just so much more explosive. He can stay out there a whole lot longer and be able to defeat press. Our tight end group is still very solid. You've got about three guys, Aliz'e Mack, Nic Weishar, who you know of, and then Cole Kmet has really done a nice job. Brock Wright has done a good job at his fullback spot. Our young o-linemen, Liam Eichenberg has had a really good fall camp. You just see the confidence in the way he loves to practice, the physicality he's bringing, and just the leadership he's starting to bring has been a good sight to see from him. Another young guy in Josh Lugg, a guy who has really come on in the last three days, another offensive lineman. So, we have close to seven or eight guys who can play winning football for us upfront. Our quarterbacks have done a great job. Their overall knowledge of football, the way we communicate, we can come off to the sideline and talk about their series, where we could never really could last year. It was just all about trying to get a good snap and hand it off. So, that's been good. Just the knowledge and the base that these guys have and the standard that we have to go about practice each and every day and seeing them run with it has been exciting to me."
The running game was terrific last year, but the Fighting Irish may have to do a much better of job getting things going through the air if they want to have success on offense this fall. Long believes quarterback Brandon Wimbush is much more prepared, especially mentally, for what's to come in 2018.
"There's no question," said Long, when asked if Wimbush has made progress since 2017. "The biggest area is just his confidence. Something bad happens, whether it's a bad throw or bad play, he's able to respond out of it. Last year, it took about three or four plays to get passed it. Just seeing that in his eyes, seeing the comfort level that both of them really have out there in the offense, is really good to see. We can win with both of them. But just the overall confidence that Brandon is able to respond with has been really exciting to me. It just helps with the overall morale and flow of the offense."
As a whole, the offense is "coming together nicely" according to Long. The Fighting Irish will have to get things going quickly in a big game against Michigan on Sept. 1 inside Notre Dame Stadium. Long will continue spending the next week or making sure everyone is fully prepared.
"Just how we practice. A lot of situational practices. Trying to get as much scrimmage work, where those young guys are getting hit at a major college level," said Long, when asked how he gets his players ready to start he season, especially the younger guys. "Being able to take care of the ball, doing all the little things right at the speed of this game. Each and every practice, you can't have an off day. That's a good thing about having a big opener, there are no off days in fall camp, so those guys have that intensity about them to go out there and prove it each day. You're not going out on that field unless you do it on the practice field."
***The Irish Illustrated team of Tom Loy, Tim Prister, Tim O'Malley, Jack Freeman and Kevin Sinclair is the most experienced group of journalists covering Notre Dame today. And that experience leads to coverage you can trust. We're not going to tell you that everything is all right with the program all the time or that your concerns about the program are unwarranted. We're also not going to dwell strictly on the negatives when there are positives to report. We are dedicated to providing you with the truth about Notre Dame football and recruiting. That is our job. Not all media outlets covering Notre Dame football do that. CLICK HERE to grab a FREE TRIAL to the No. 1 Notre Dame team and recruiting site around!