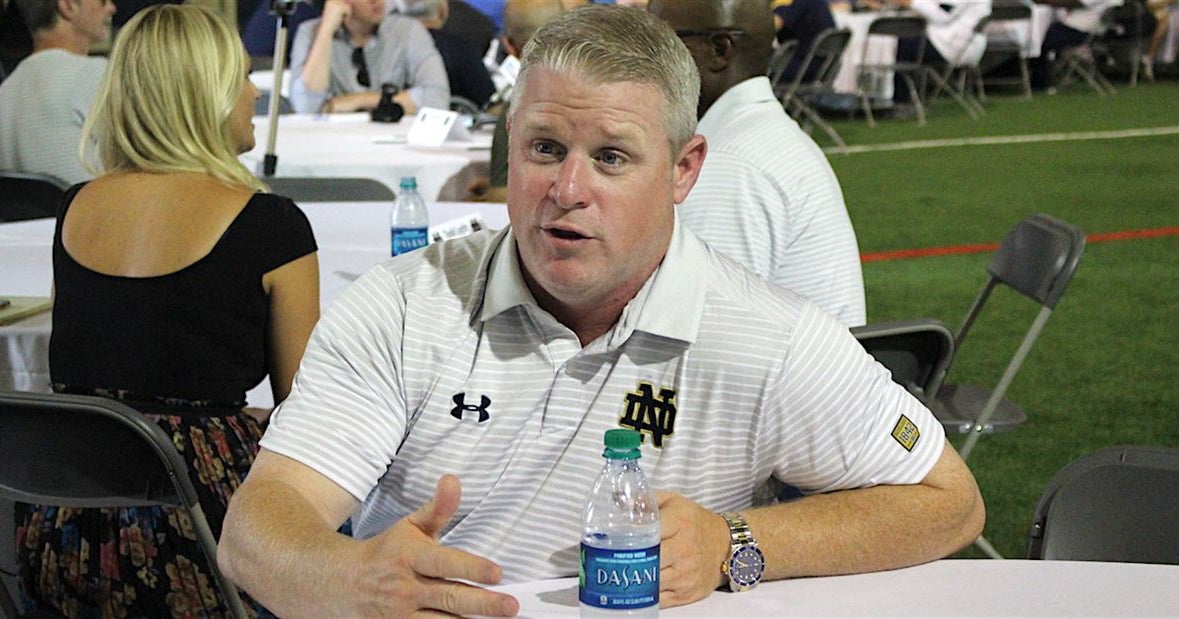 The return of Brian Polian to the Notre Dame coaching staff has been a big plus for the Fighting Irish. The special teams unit, under his tutelage, continues to improve on a daily basis from where it was prior to his arrival on campus. Notre Dame recruiting was moving along nicely prior to his arrival, but his addition continues to take things up a notch. With 17 commits already locked up from the class of 2019, the class is nearly complete and the first game of the 2018 football season hasn't even occurred yet. That's a credit to Polian and the rest of the Notre Dame coaching staff.
On Sept. 1, Notre Dame and Michigan will meet to open up the season. With punter Tyler Newsome and kicker Justin Yoon, the Fighting Irish have two of the nation's top specialists residing in South Bend. Notre Dame fans are truly excited about the current roster, as it looks loaded with skill players, and are hoping that this special teams unit become one of the best in the country.
"I think you got to start with some of the redshirt freshmen that didn't play last year," said Polian, when asked about some expected contributors on the always-fluid special teams units. "Jafar Armstrong has been really good. Avery Davis has been really good. I think TaRiq Bracy in the last five to six days is really coming on. He is keeping steps forward, where I think some other freshmen seem to be hitting the wall. Shayne Simon has done a really good job. Houston Griffith. You know, C'Bo Flemister and Jahmir Smith were both doing well early in camp, but were limited a little bit due to some nicks and bumps. It was nothing serious, but it kind of slowed them down a little bit. I don't think we're going to know really what freshmen are going to make a big contribution probably until halfway through the year. There are some guys that won't play in the Michigan game, that will probably be playing halfway through the year. We just got to keep working from there."
There are always some surprises with this group. Names come out of nowhere and have Fighting Irish fans wondering where certain individuals came from. For Polian, one name quickly popped out of his mouth when asked for his biggest surprise at kick returner during fall camp.
"Yeah, Nick Coleman," said Polian. "I didn't have much history with Nick. He catches it really well. After he went back there the first day and kind of caught my eye, I went back and pulled up his Hudl film just to see him with the ball in his hands while we were at Culver. Shaun Crawford wants to get back there and do it. Kick returner, I mean, today was practice No. 12, it's still pretty fluid, so we'll figure it out."
One player who has done a good job of making plays on this unit when called upon is safety Nicco Fertitta. During Friday's scrimmage, Fertitta laid a big hit on freshman wide receiver Kevin Austin, forced the ball loose, and the fumble was recovered by the defense. Head coach Brian Kelly recently spoke about him and praised his toughness and physicality. Fertitta added some good weight this offseason and it has clearly made an impression with Polian as well.
"Well, I think he has changed his body. Nicco has never been the biggest guy out there, but there were times that you'd look at his body weight and you'd say, 'You got to get it up.' He added a lot of good weight and strength this summer and has been as engaged as he's ever been with me during my 18 months here," said Polian of Fertitta. "He's going to have a role. There is no doubt he'll be on kickoff, because we have a great spot where he fits perfectly, and he could find himself on punt return and kickoff return when all is said and done. Very excited for a young man in his last year to really embrace it and we'll see if he can make a contribution."