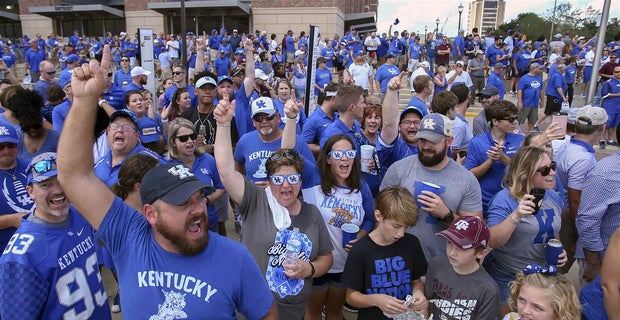 The Kentucky Wildcats are ranked the No. 23 best fan base across sports and entertainment and the No. 4 college property by FanSided.com.
Athletic Director Mitch Barnhart has really developed the athletic programs in Lexington. Several teams are achieving success beyond the basketball program. The passion of the Big Blue Nation is bleeding over into those sports. The football program will play in the Citrus Bowl in Jan. 1. Fans are expected to flock in droves to Florida for the contest. Meanwhile, the basketball program leads the NCAA in attendance most years.
"While the Wildcats basketball team always has a strong following and passionate fandom, this year the football team has ignited the fans in Lexington. The Kentucky football team ended a 31-year drought against Florida and then followed up by beating their second consecutive ranked team against Mississippi State.
Behind all of the excitement and really bringing a lot of hope to Kentucky fans is running back Benny Snell Jr., who puts the Wildcats on his shoulders when they need him most. Snell is the vocal leader of the team and has quickly become a fan favorite."
Here is the metric they created to differentiate each fan base:
This year, for the first time, we are revealing the composite score our editors assigned to each fandom. We also refreshed our approach and created a more intricate scoring system. We landed on five key measures, each was assigned a number of points for a total (and perfect score) of 100:
Legacy (10 points)
Fansmanship (25 points)
Passion (25 points)
Buzz (25 points)
Magnitude (15 points)
Our staff split into committees and studied voted on the fandoms monthly to ensure that the total scores were as democratic and timely as possible. The final numbers were averaged out to be the overall score you see on the Fandom 250 today.
The Kentucky football regular season has come to a close. Get the latest news sent directly to your inbox when you sign up for our FREE email newsletter TODAY!
The Wildcats trail only the Alabama Crimson Tide (No. 2), Notre Dame Fighting Irish (No. 13) and the Michigan Wolverines (No. 15). They are ahead of the Duke Blue Devils (No. 24), Oklahoma Sooners (No. 30), North Carolina Tar Heels (No. 32), Texas Longhorns (No. 33), Kansas Jayhawks (No. 34), USC Trojans (No. 41), Georgia Bulldogs (No. 48), Clemson Tigers (No. 49), Penn State Nittany Lions (No. 61), Wisconsin Badgers (No. 72), LSU Tigers (No. 78), Nebraska Cornhuskers (No. 103), Ohio State Buckeyes (No. 110), Florida Gators (No. 127), Auburn Tigers (No. 155), Florida State Seminoles (No. 186), Miami Hurricanes (No. 189), Iowa Hawkeyes (No. 226), Mississippi State Bulldogs (No. 229), Arizona Wildcats (No. 238) and Villanova Wildcats (No. 246).
The top five fan bases, in order, were the Cleveland Browns, Alabama Crimson Tide, Boston Red Sox, LeBron James and Black Panther.