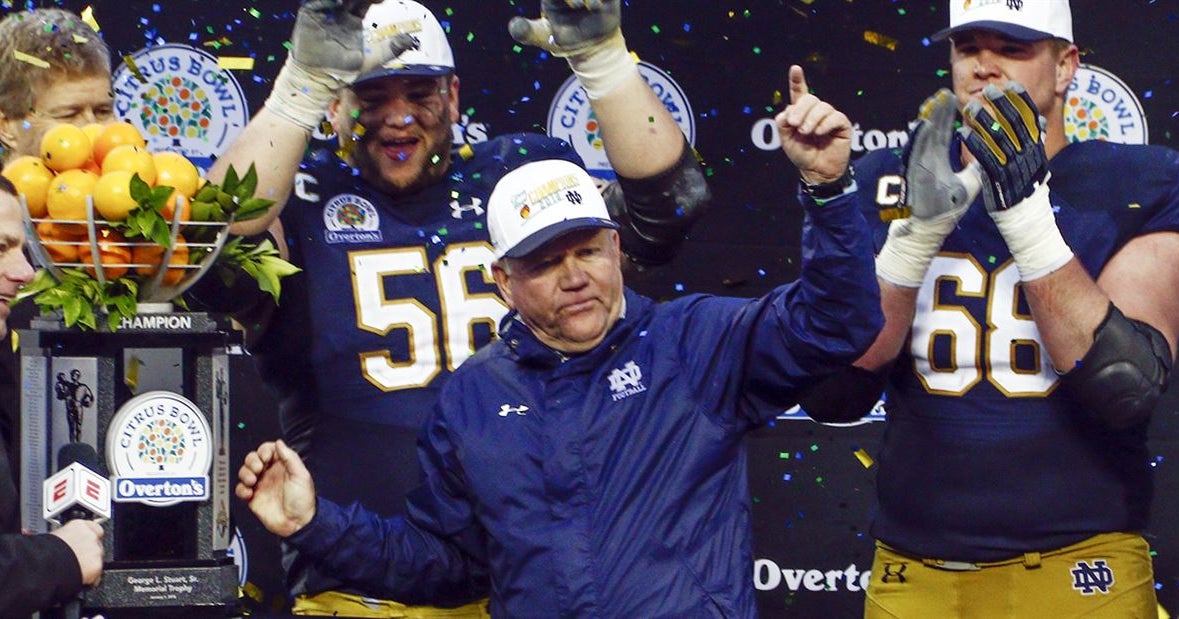 Notre Dame's season starts off with one of the hottest games in college football when it hosts Michigan Sept. 1 in South Bend. A nationally-significant opener sets the tone for year nine under Brian Kelly in one way or another with enough talent to compete for a spot in the College Football Playoff.
The Westgate Las Vegas Superbook sets Notre Dame's preseason win-total projection for 9.5 games, not including a post-season appearance. Can Kelly and the Fighting Irish exceed expectations in Vegas?
Count 247Sports director of scouting Barton Simmons as a believer. Speaking this week on the 247Sports College Football Podcast, Simmons says 10-2 is the most-likely result for Notre Dame's regular season.
"I've got Notre Dame losing the first game to Michigan and the last game to USC," Simmons said. "Obviously there's other losable games on the schedule. It's a weird schedule in a sense that there's not an easy game on the schedule, maybe Ball State. Then you look at each game in a vacuum. I could see a scenario which Notre Dame is favored in every game of the season with the exception of Michigan. … They're all winnable but it's just the fact that there's no reprieve. There's no rest."
Notre Dame lost elite offensive linemen Quenton Nelson and Mike McGlinchey to the NFL as well as other key players. Enough talent and coaching returns in 2018 to potentially replicate the hot start fans saw last year for the Fighting Irish.
"This is sort of the same team as last year, almost the same team," Simmons said. " … This is still, legitimately, one of the best offensive lines in the country. Offensive line remains a strength. Quarterback is the same quarterbacks back. Same guys that were inconsistent last year. … That could be a negative because quarterback play was kind of a problem to a certain degree or you can look at it as a positive, alright we still think these guys have ability and they should be better."
Brandon Wimbush of Jersey City (N.J.) St. Peter's Prep returns at quarterback with Ian Book also available after he took over in a bowl-game victory for the Fighting Irish over LSU. Wimbush was hard at work this offseason in search of a more consistent product. He returns as Notre Dame's leading passer (1,870 yards, 16 touchdowns) and rusher (803 yards, 14 touchdowns) from last season.
"If Brandon Wimbush is really good, then obviously that changes the whole narrative," Simmons said. "If he comes in and he's improved and he's developed as a passer, then all bets are off. They could win every game."
The preseason magazine team at Athlon Sports is less optimistic. If you go by Athlon's preseason projections, bet the under on Notre Dame for a 9-3 finish and ranking as the No. 15 team in college football this season.
"Notre Dame is aiming for its first back-to-back double-digit-winning seasons since Lou Holtz was head coach in 1992-93," Athlon writes. "Winners of 10 games in two of the last three years, the Fighting Irish remain a difficult read, due largely to the ugly 4-8 season in 2016. It begs the question: Was last year's September-October run for a Playoff berth a more accurate depiction of Notre Dame moving forward, or does the collapse in November at Miami and Stanford say more about the up-and-down Brian Kelly regime?"