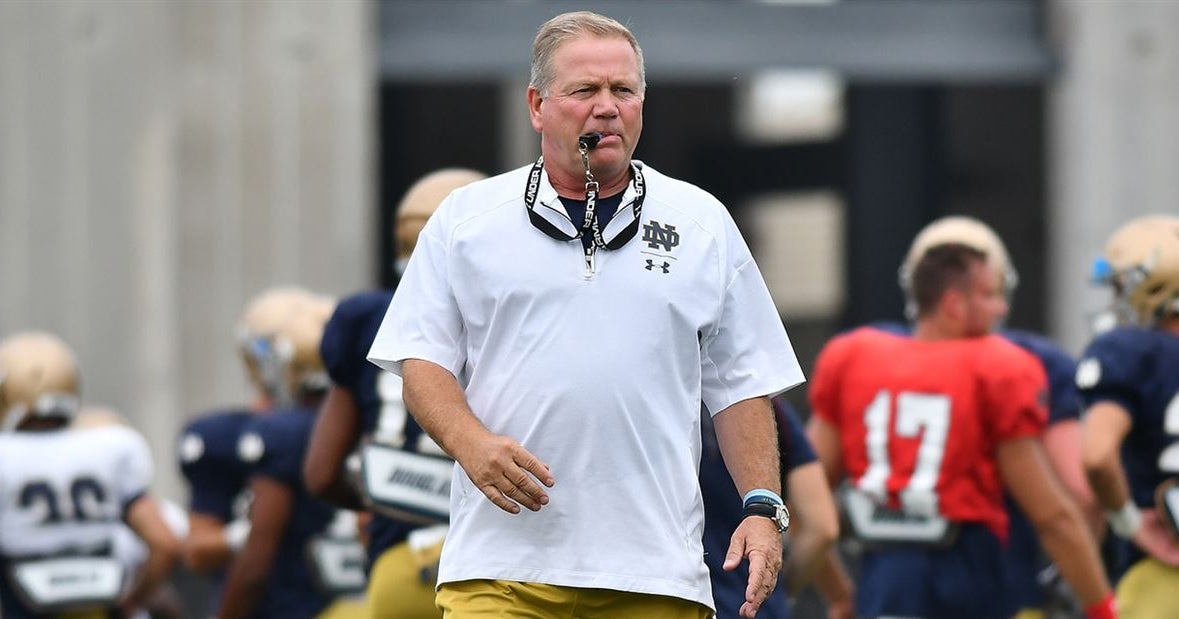 In Week 1, the Notre Dame Fighting Irish kicked off their season by defeating the No. 14 Michigan Wolverines in front of a national audience on NBC. Notre Dame now ranks No. 8 in the AP Top 25 Poll and are squarely in the early discussion for College Football Playoff contention. Are the Irish worthy of so much playoff hype after one week of football?
That's the question that the folks at Pro Football Focus asked on Wednesday. In a video uploaded to YouTube, PFF analysts Mike Renner and Sam Monson examine whether Notre Dame is actually a legitimate contender for a national championship. They start by addressing a couple of concerns on the roster. While the Irish got a huge Week 1 win, that doesn't mean they weren't without flaws.
The first concern of Notre Dame's that Renner addressed was quarterback play. Irish signal caller Brandon Wimbush graded out decently with a Week 1 grade of 67.7 from PFF, but he'll have to be more consistent in order for his team to make a run at a championship.
'This game, he was accurate enough. I think the Notre Dame gameplan suits him well enough to where, if that can just get that same Brandon Wimbush every single week, they are for sure national title contenders," Renner said.
The next glaring issue from the Michigan game that the analysts turned their attention to was the offensive line of the Irish. Monson pointed out that tackle Liam Eichenberg had a PFF pass blocking grade under 10 in the team's first game. While that's very poor, Renner points out that the Michigan defensive line is one of the best in the country with Rashan Gary and Chase Winovich.
"The other thing to remember here is that they still did fairly well in run blocking," said Renner. "They had positive run blocking grades along that offensive line, which is good. Against one of the best defensive lines you're going to face all year, they still did well in run blocking, which is going to have to be their calling card all season long."
As for what Notre Dame's strengths are going forward, Renner immediately pointed to the front seven of the Irish. Defensive lineman Jerry Tillery even made the PFF Team of the Week with a grade of 92.2. "I think they can really affect opposing passers, which is huge for them," stated Renner. "They aren't great on the back end, but if you get pressure on opposing quarterbacks, then you don't have to be.
It's a very realistic possibility that Notre Dame is favored in each one of its games for the remainder of the season, with the possible exceptions to that being Stanford and USC depending on how the coming weeks play out. If the Irish can take care of business against inferior opponents this season, then they will be in the College Football Playoff debate by year's end.