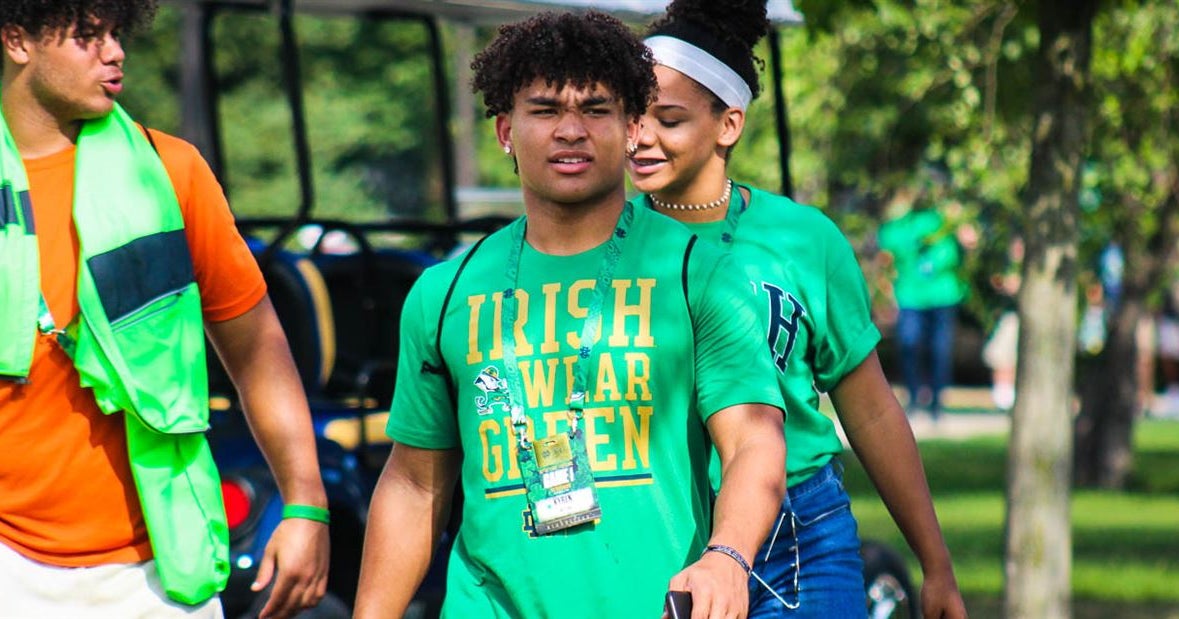 Although his industry-generated 247Sports Composite Ranking may not blow people away, Notre Dame has a very good running back coming from the class of 2019. No surprise here, but it was another Friday night and another stellar performance from St. Louis (Mo.) St. John Vianney three-star running back Kyren Williams.
In the 42-7 win over Helias, the 5-10, 200-pound Fighting Irish commit put on a show and didn't need a ton of opportunities to do so. On the night, Williams finished with 95 yards on only 9 carries and had a 64-yard touchdown run. As Irish Illustrated has said for a very long time, Williams is versatile and makes plays in the rushing game and passing attack. It came as little surprise to see him also have two touchdown receptions on the night, as he reeled in scores from 29 and 15 yards out, as well as a catch on a two-point conversion.
Williams committed to Notre Dame back on June 21. He chose the Fighting Irish over offers from Stanford, Michigan, Michigan State, Kentucky, Iowa, Iowa State, Illinois, Kansas, Kansas State, Missouri, Memphis, Minnesota, Nebraska, North Carolina, Northwestern, Purdue, Western Michigan and Wisconsin. That offer list shows exactly how coveted he truly is, but his effort on the football field shows that he might just be one of the more underrated running backs in high school football. In the end, playing for Notre Dame fulfills a long-time dream for Williams, who grew up watching the Fighting Irish on television. It seemed like a perfect fit when Notre Dame offered early in his recruitment.
"Everyone knows about the football program, but it's a prestigious program academically," said Williams of the Irish when he committed. "You can do big things with that degree even if you don't make the NFL. The education aspect is really intriguing to me"
Last season, Williams carried the ball 102 times and rushed for 922 yards and 22 scores. He also had 51 catches for 774 yards and 12 touchdowns. He's currently on pace to surpass those numbers as a senior.
Per the 247Sports Composite Rankings, Williams is the No. 22 running back in the country and No. 9 prospect in Missouri from the class of 2019.
***The Irish Illustrated team of Tom Loy, Tim Prister, Tim O'Malley, Jack Freeman and Kevin Sinclair is the most experienced group of journalists covering Notre Dame today. And that experience leads to coverage you can trust. We're not going to tell you that everything is all right with the program all the time or that your concerns about the program are unwarranted. We're also not going to dwell strictly on the negatives when there are positives to report. We are dedicated to providing you with the truth about Notre Dame football and recruiting. That is our job. Not all media outlets covering Notre Dame football do that. CLICK HERE to grab a FREE TRIAL to the No. 1 Notre Dame team and recruiting site around!