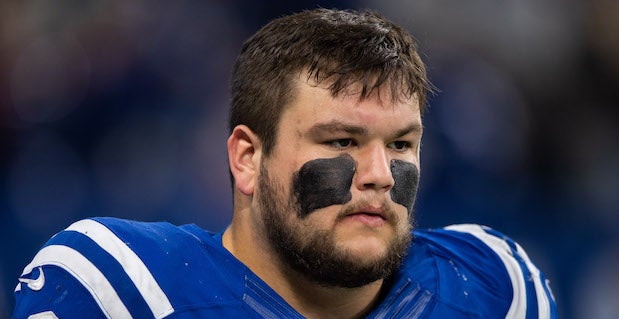 From a Top-10 NFL Draft selection in April to a First-Team All-Pro rookie season with the Indianapolis Colts, it has been a special season for former Notre Dame star offensive lineman Quenton Nelson.
Nelson's first NFL playoff game, and victory, yesterday against the Houston Texas was more of the same thanks to a pancake situation that did not go unnoticed online.

tHiS iS hOlDiNG … ???????? pic.twitter.com/EWI6fnb8VF


— Geoff Schwartz (@geoffschwartz) January 6, 2019
Nelson went viral in Saturday's Wildcard Round victory over the Houston Texans for a block against superstar defensive lineman Jadeveon Clowney. Nelson's mauling block was something between a body slam and a pro-wrestling-style Lou Thesz Press.
Nelson and the Colts move on to face the Kansas City Chiefs in the next round in what will be the Notre Dame product's second career playoff game. Nelson started all 16 games of the regular season and served as a force on the offensive line since he first took the field as a professional. He excelled as a run blocker, but was as equally effective as a pass blocker. As an offensive lineman, you don't always get the credit that you deserve, but Nelson truly has been everything the Colts were hoping that he would be when they drafted him.
It was not Nelson's first viral moment as a rookie after his "screaming block" in mid November resulted in a $26,739 fine for leading with his helmet.
Originally from Red Bank (N.J.) Catholic, Nelson signed for four years with a fifth-year option. The four-year deal is worth $23,888,912 and comes with an option for a fifth year. This contact also includes a signing bonus of $15,453,752. In addition, his entire contract is guaranteed.
Nelson was selected No. 6 overall in the 2018 NFL Draft and was the first offensive lineman taken. Following the draft, Colts general manager Chris Ballard told reporters that Nelson was "the easiest pick I've ever been a part of" and praised the former Fighting Irish standout for his potential and high ceiling. Ballard added "God made him a little bit different than He made everyone else."
The Colts overcame the Texans 21-7 yesterday in a game that left stars like JJ Watt feeling frustrated.
"It's very tough," Watt said. "It's frustrating. Gotta give the Colts a lot of credit for the way they played today, especially early in the game, the first quarter. Just didn't do enough. It sucks. I told the boys in there it sucks. I mean, I love them. I love every guy in that locker room. I know we started out 0-3, and most everybody wrote us off. Found a way to come back from it, but like I said all year, there is no such thing as a moral victory. None of it really matters right now."