The #10 Virginia Tech Hokies basketball team has looked great all season and is coming up against a team that has always plagued Buzz Williams in the Notre Dame Fighting Irish. Buzz Williams has only defeated Mike Brey's squad once, with that win coming last season. The 11-1 Hokies will look to give Buzz Williams a second victory over Brey's Fighting Irish(10-3) on Tuesday afternoon at 1 PM. The game will be broadcasted on ESPNU and WatchESPN.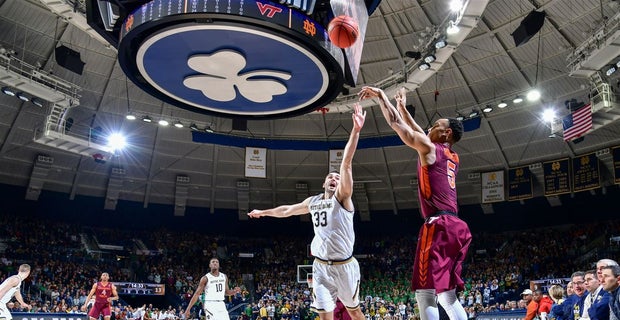 The good news for the Hokies is that this is one of the best teams Virginia Tech has had in recent memory, while the Fighting Irish come in banged up after losing one of their best players, Rex Pflueger. Rex is a very good defender that always seemed to pop up in the right moments and hit big shots. His defense, energy, and three-point shooting are qualities the team has really missed and his ACL tear really took away the vocal leader of the team. Though, there is still plenty of talent in this Notre Dame squad.
TJ Gibbs is getting 14.2 points and 3.8 assists per game. He has always seemed to play very well against Virginia Tech and will be the focal point of Virginia Tech's defensive assignments. He has not shot quite as well this season but Gibbs can catch fire from behind the arc and Brey has given him the green light to pull up when he is feeling it. Next is one of the main post presences, John Mooney. Averaging 12.8 points and 9.3 rebounds per game, Mooney is a threat to get a double-double every time he touches the floor. Kerry Blackshear Jr is going to have his work cut out for himself on the defensive end as Mooney can punish you if you do not box out well.
There is also another solid post player, and a name Virginia Tech fans will hate to hear, in Juwan Durham. Juwan decided to transfer away from UConn and strongly considered Virginia Tech before ultimately deciding to go to South Bend. Durham is a very athletic 6'11" forward that can clean up the glass and has impressive footwork in the post. The combination of Mooney and Durham attacking Blackshear is very worrisome as that is more chances for Blackshear to foul and the Hokies do not have a player that would consistently challenge shots John and Juwan put up.
Last but not least there is DJ Harvey. While he is not the scariest weapon on the team, DJ can sneakily put up good numbers and find different ways to contribute. The 6'6″ guard can take defenders off the drive but is just as comfortable shooting the long ball. Ahmed Hill and Nickeil Alexander-Walker will need to make sure Harvey does not get loose because a big night from DJ would likely end in a Virginia Tech defeat.
All of that indicates why Notre Dame has the talent to compete, especially with Buzz seemingly cursed, but the Hokies feel confident in taking this game and have every reason to be. Virginia Tech scores more points and holds opponents to far fewer points, all while playing a very efficient game of basketball. Justin Robinson has not been getting the stats some expected from him but he has run the offense well and made sure that the Hokies don't drop another game they feel is there for the taking. Nickeil Alexander-Walker did not play the last time out with an ankle injury but has been one of the best players in the country when he has been on the floor. His improvement from last season to this season has been remarkable and would be a major boost for Virginia Tech's scoring ability.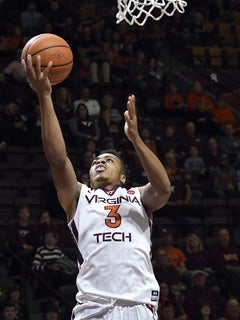 Ahmed Hill has been playing very well lately and can light it up from behind the arc. Wabissa Bede was the star against Maryland-Eastern Shore and dominated in every facet of the game. PJ Horne has been coming into his own and shown that he can be very good on the offensive glass and gobbling up points after rebounds. Ty Outlaw and Isaiah Wilkins have traded off big shooting nights and helping the team have another three-point threat, spacing teams more than they expect and not being able to follow the quick, motion offense that the Hokies have been running.
Virginia Tech is favored by 11-points and it makes sense. The Hokies have the talent to keep up with most teams in the country and Buzz Williams new defensive style is difficult for opposing coaches to break down. With a potent scoring threat, Virginia Tech should see this one out. The Notre Dame curse is worrisome, as is the chance of Nickeil not being ready and sitting out, but with the curse broken last season and word around the team saying Nickeil is healthy enough to play it should be a Virginia Tech victory. The new all-black uniforms will get a little extra energy and I predict another Virginia Tech victory.
Final Score: 89-74 Virginia Tech
Player to Watch: Justin Robinson