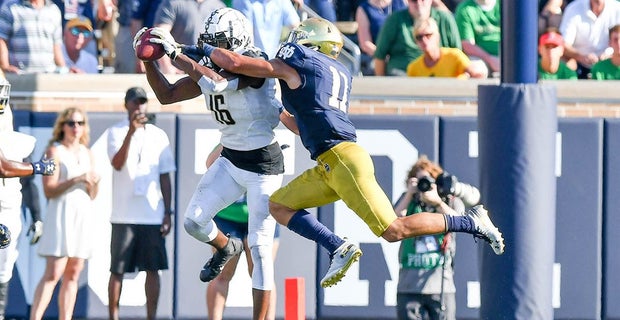 Not long after this heavily-debated non-conference trip to Notre Dame was revealed, Vanderbilt fans dreamed of a trip up to visit the college football royalty in South Bend that ended with a Commodores victory against the vaunted Fighting Irish program.
That dream scenario nearly became a reality on Saturday afternoon, but Vanderbilt came up just short in a hard-fought 22-17 loss at Notre Dame Stadium.
When you strip away Touchdown Jesus, the golden domes and all of the history involved in the trip, what Commodores fans witnessed was the coming off age of Derek Mason's program on a national stage. The Commodores stood toe-to-toe with the No. 8-ranked team in the country and exchanged blows for four quarters without looking a bit of out of place.
Sure, the offense got off to a slow start and the defense needed a few series to adjust to the rushing attack of the Fighting Irish, but it's worth noting that both units made proper adjustments and were perhaps better than Notre Dame at executing for the rest of the way. That's not something we've witnessed regularly from Vanderbilt during the Mason era, and is something to consider as he moves through his fifth year with an experienced, hungry group of players. The best may be ahead of this team.
Before we turn the page to the SEC opener against South Carolina in Week 4, here are 10 things we can carry forward from the Notre Dame game: